Despite an absolute lack of supporters from their own country, North Korea's appearance at the Asian Cup has still captured the imagination of local fans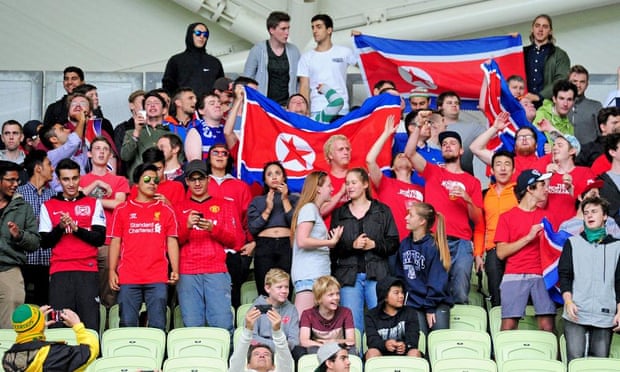 The North Korean team arrived in Australia shrouded, as usual, in mystery. They marched unblinkingly past the welcome to country ceremony, gave the media the cold shoulder and they assiduously ignored any requests for autographs.
Little is known about the closed communist country, but it's not for a lack of trying. As part of their community ambassador program, the Asian Cup Local Organising Committee tried to track down North Koreans living in Australia, but the lines of communication quickly went dead. In the potpourri that is 21st century Australia, every nation can find some support from a diaspora community. Except for North Korea.
To fill the void, the North Koreans are being supported at the Asian Cup by a motley crew of inner-city hipsters looking for an appropriately ironic team to follow, whack-job communists still raging against the dying light of Marxism-Leninism, cheapskates taking advantage of the cut-price tickets (and I mean cut-price – you can get into North Korean group matches for a tenner), and, most curiously of all, the South Korean reunificationists.
The opening match between North Korea and Uzbekistan was one of the more peculiar spectacles in the history of Australian sport. The former Soviet satellite ruled by the shamelessly authoritarian and delightfully named Islam Karimov – a man who received more than 90% of the popular vote in the last elections – defeated the bureaucratically deformed workers state of North Korea by a solitary goal. Rain sheeted down, drenching the small crowd of onlookers at ANZ Stadium. Oceans of blue seats, at least 70,000 in total, were left unoccupied.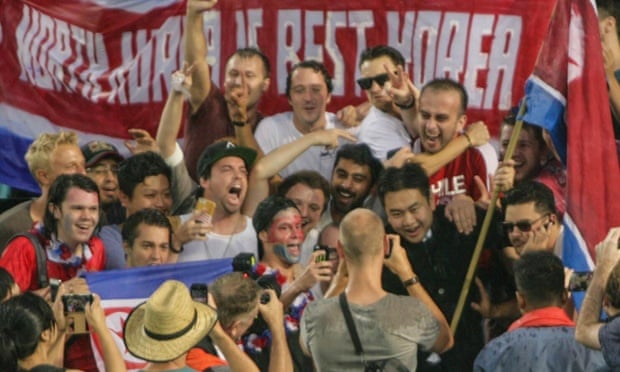 In Melbourne for North Korea's clash with Saudi Arabia, I find the reunificationists outside AAMI Park, which for this month only will be known as 'Melbourne Rectangular Stadium' to please the notoriously fickle Asian Football Confederation (hilariously, the "ANZ" on the ANZ Stadium sign in Sydney has simply been blacked out to read "Stadium").
Without the obligatory naming-rights sponsor the name conjures up images of Soviet-era stadiums, but in truth, Melbourne Rectangular Stadium is a very futuristic interpretation of a rectangle in that it's actually shaped like a bubble. No matter. North Korea, according to their own state-run media, is the land of the future – they invented the hamburger ("double bread with meat") before the Americans, their former dear leader Kim Jong-il could control the weather with his mind, and in 2012 the ruling party announced "the first year of a new centennial of juche."
But Yoo Choi and his party of South Korean reunificationists are not here for the "juche" that eternal leader Kim Il-sung outlined as "being master of revolution and reconstruction in one's own country". They're here for a different Korea of the future – a future in which Korea will again be one nation. "Koreans are one people, two governments", Yoo tells me, "but we can build bridges."
Yoo lives in Melbourne with his wife and kids, having moved to Australia to study in 1988. "I came here when I was 20," he says. "Now I've been here for 26 years. I still support Korea, but my kids will support Australia." Yoo runs the Raon Korean Magazine in Australia, is president of the Korean Australia Football Association and has recently been appointed as an ambassador to the government-sponsored Korean reunification council. He is also one of the South Korean ambassadors for the Asian Cup Local Organising Committee.
Yoo is a Korean-Australian renaissance man. Like the earlier waves of European migrants who set up newspapers, football clubs and organised cultural activities, he wants to help his community integrate. "I try to deliver the Korean people Australian information because they have to know how to go out into Australian society," he says. For now the newspaper is printed in Korean, but he says it carries 70% Australian news. "When I came here I didn't have much problem making friends. But not everyone has this, so I'm trying to make a bridge for them to get into the mainstream."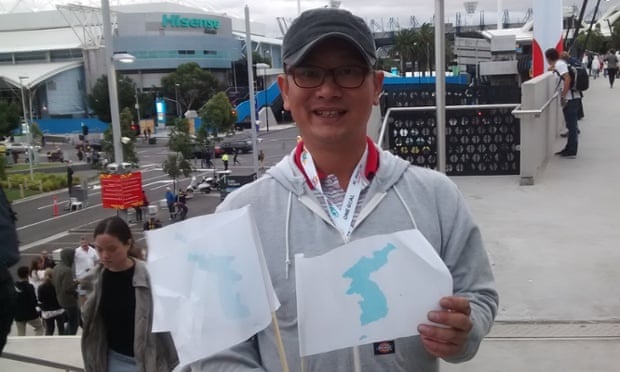 Yoo and his friends had organised around 200 reunification flags – an all white arrangement with a thin blue sliver in the shape of the nation. Reunification has been a constant theme of South Korean politics. In the demilitarised zone at the border between North and South Korea there is a train station called Dorasan. Passengers are barred from this station until the North Korean government collapses and reunification takes place, but a big sign shows railway tracks stretching into the horizon with the message "Not the last station from the South, but the first station towards the North." In her New Year's address, President Park Guen-hye encouraged reunification, and individuals like Yoo – even in faraway Australia – are the foot soldiers in this battle.
"North Korea are here but they have no support, no embassy, no people," he tells me. "They have no fans, which is sad. So I said South Korean fans will come. Anyway, we have no game for the South Koreans in Melbourne so when North Korea were drawn here we felt we'd better support them."
His flags, however, are confiscated by security, apparently under directives from the AFC. Stadium security tell me only certain banners are allowed in, while Yoo says he was told the Korean writing on another banner is considered inappropriate. He shrugs his shoulders and doesn't complain – he's not here to make trouble.
The Saudi Arabian fans, on the other hand, give out little green flags of their nation to passers-by. "I can't read what their flag says," says one Korean fan wryly, referring to the Arabic script. Of course, a few of the offending reunification flags did make it inside the stadium, but it wasn't quite the display Yoo was hoping for.
Still, they chant and clap for the country of tomorrow. The North Korean "home end" is full, and several fans cheekily start chanting "six times world champions!" and "Kim Jong-un, ole ole ole". A generously proportioned Australian man with a North Korean shirt and scarf tries to unfurl a large North Korean banner, but it's promptly removed by security. Meanwhile, on half-way, an entire bay is evacuated as wind threatens to bring down the giant stadium-sanctioned flags that flutter above them. Soon those flags – even the one with the AFC logo – are removed as well. It is, quite literally, all happening.
North Korea score first, and from where I'm sitting, the fans go wild. I ask whether Yoo knows any of the players. "No, not really," he responds. "Jong Tae-Sae didn't come this time." He is referring, of course, to the Japanese-born striker the press labelled "The People's Rooney" at the 2010 World Cup. Soon he points out "number 19 and number 10" as players he is impressed with. A quick glance at the team sheet tells us they are Ri Yong-jik and Pak Kwang-ryong.
North Korea's lead doesn't last long. Saudi Arabia equalise through Naif Hazazi, and then take a lead through Mohammed Al-Sahlawi after half-time. Yoo and the fans at the home end, however, are still confused as to why a man dressed as the Dear Leader has his face-mask confiscated by security.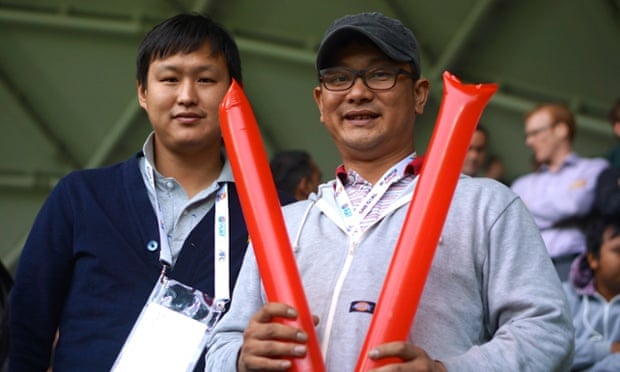 Any chance of a comeback quickly evaporates as the North Korean defenders make a catastrophic error at the back, and Al Sahlawi tucks the ball into an open net. Nawaf Al-Abid takes a penalty that, incredibly, hits both posts before he bundles it over the line in the follow-up. Just before full-time, there is a heavy collision between a North Korean defender and a Saudi striker. While several Saudi players remonstrate with the referee, the number 18, Salem Aldawsari, starts juggling the ball nonchalantly as if nothing happened at all. The game, if it wasn't already apparent, has turned into a bit of a circus. North Korea are well and truly out of the tournament.
Their players, in what is probably the biggest show of emotion of their tournament, quickly thank the home end for their support and are met with rapturous cheers. For Yoo, the game is all in good fun, although it's a shame the reunification flags were banned. "I think [sport] is a good way," he says. "Football and table tennis was the first sport to make one Korean team at the Asian Games. Everyone is cheering for the one team."
fonte: The Guardian